Client: Nick
Country: United Kingdom
Industry: Fishery aerator
Cooperation time: from 2020 to now
This time the customer is a British manufacturer specializing in the production of fishery machinery. With the development of fish farming, their product sales channels continue to expand, but because the previous motors have always had problems with their use, they want to add oxygen to the fishery they produce The machine was replaced by a suitable motor supplier, so I contacted us.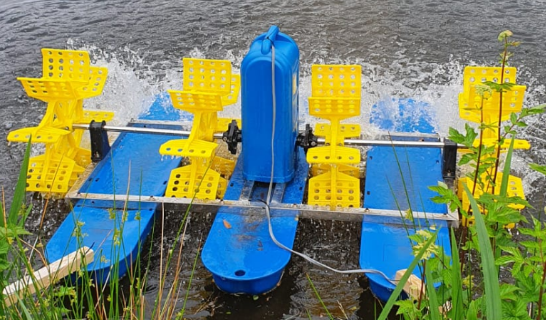 DIFFICULTY
In the communication with the customer, the customer put forward several problems that need to be solved.
1. The customer used a brushed motor before, but the effect was not good. So they want to try a brushless motor.
2. The customer hopes that the torque of the motor is as large as possible to drive four fan blades.
3. The size of the motor can just fit into the previous product without additional design.
4. The later maintenance cost of the motor is low and does not need to be replaced frequently.
SOLUTION
1. Recommend a brushless motor of suitable size to customers. Because the voltage used is 24V and the power is 400W, it is recommended that customers use our 80mm brushless motor.
2. Because it is understood that the motor does not need such a high speed in practical applications, it is recommended that the customer use a gearbox, and finally after discussing with the customer, it is recommended that the customer use a brushless motor + RV gearbox.
3. The actual use time of the customer's product is about a few hours per day. According to the normal life of the brushless motor, it can be used for several years. The customer is satisfied with this use time.
---
FOLLOW-UP
The guests ordered two samples, and they are still in the production stage, but the customers believe in the quality of our motors and discuss the subsequent customization requirements of other motors.